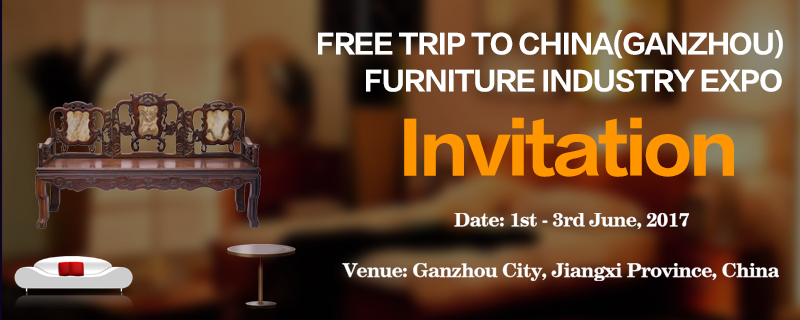 You are cordially invited to
Free Trip To China(Ganzhou) Furniture Industry Expo
Date: 1st - 3rd June, 2017
Venue: Ganzhou City, Jiangxi Province, China
Purchaser Advantages
1. Personal sourcing assistance in the Furniture Expo.
2. Free air ticket from your country to Guangzhou and back (with the invoice to prove).
3. Meet large sum of good suppliers in the fair.
4. Free hotel and food.
5. Get 500RMB bonus for each person.
Various furniture product with high quality and good price.

Wide range of food available: Chinese food, Vegetarian food, Muslim food, Non-alcoholic&alcoholic drinks.

Air ticket between your country and Guangzhou can be renfunded.

Free hotel for you.
Tips
If you are interested in our activity, please choose one to contact us!

1. Please click our website: http://club.mr-world.com/plus/diy.php?action=post&diyid=4for online sign-up.
2. Fill in attached receipt form.
3. Send email to: Elina@mr-world.com.
4. can contact us:Elina: +86 15999929180,Kerry: 13430279855 (Whatsapp and Tel)
If you can not submit successfully, please click here http://club.mr-world.com/plus/diy.php?action=post&diyid=4
If you're interested in this event, please fill in the return receipt. You will be much appreciated if we can get your return receipt as possible(before May 20th, 2017).