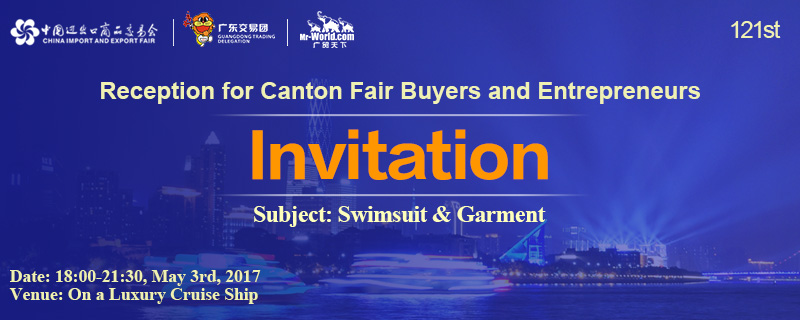 You are cordially invited to
Reception for 121st Canton Fair Buyers and Entrepreneurs
Date: 18:00-21:30, May 3rd, 2017
Venue: An Extravagant Luxury Night Cruise Ship on Pearl River, Guangzhou
Form: A Big Dinner Party (Enjoy Unique Architectures at Night; Free Buffet Dinner)
Purchaser Advantages
1. Personal sourcing assistance on board.
2. Free gifts for purchasers on board.
Experience the Pearl River and beautiful scenery of Guangzhou on a night cruise.

Wide range of food available: Chinese food, Vegetarian food, Muslim food, Non-alcoholic&alcoholic drinks

Reward for the first order online with Mr-World APP.

Meet selected suppliers in a relaxed atmosphere. High business matching rates guaranteed!
Tips
If you are interested in our activity, please choose one to contact us!

1. Please click our website: http://club.mr-world.com/plus/diy.php?action=post&diyid=3for online sign-up.
2. Return receipt below is available.
3. Send email to kf@mr-guangdong.com.
4. you can contact us: Kerry+86-13430279855, Peto+86-13476271932, and Helena +86-13570067994. Thanks for your Attention!
If you can not submit successfully, please click here http://club.mr-world.com/plus/diy.php?action=post&diyid=3
If you're interested in this event, please fill in the return receipt, and hand it to the counters desk (named information counter of exhibition hall) at the gate of hall 1.1, 2.1, 3.1, 4.1, 5.1, 6.1, 7.1, 8.1. You will be much appreciated if we can get your return receipt as possible (before May 3rd, 2017).